Make simple AC dimmer using NE555
We know that the PWM signal is very easy to generate and we can control DC loads using this PWM signal. If we could use the PWM pulse to drive AC loads, the control circuit would become very easy. This is why many people look for PWM-based driver circuits for AC loads. Here in this article, we will see how we can make a simple AC dimmer using NE555.
Disclaimer: Electricity is always dangerous. Skill required to work with electricity. Do work at your own risk. The author will not be responsible for any misuse or harmful act. This website contents are also copyright protected. Anything copied and directly posted on your website and claiming it as yours is prohibited and nonsensical. The author published all the articles as open source to help you to make your project and learning purpose only. Learn and make one for yourself. If need any help feel free to ask the author. The author will be helpful to you. Thanks.
Before we start the hardware please read this article first to understand how the PWM signal can be used to control AC loads.
Generating PWM signal using NE555:
There are different ways to generate a PWM signal for our MOSFET. We can use Analog or digital methods. We can use Op-Amps or Timer ICs or micro-controllers for this purpose. The easiest way for us who knows how to use micro-controllers is to use micro-controllers and the cheapest way to use Timer ICs like NE555. But it depends on the field of use which circuit is the best.
PWM signal generation using NE555 Timer IC:
We can use NE555 timer IC to generate PWM with this circuit diagram: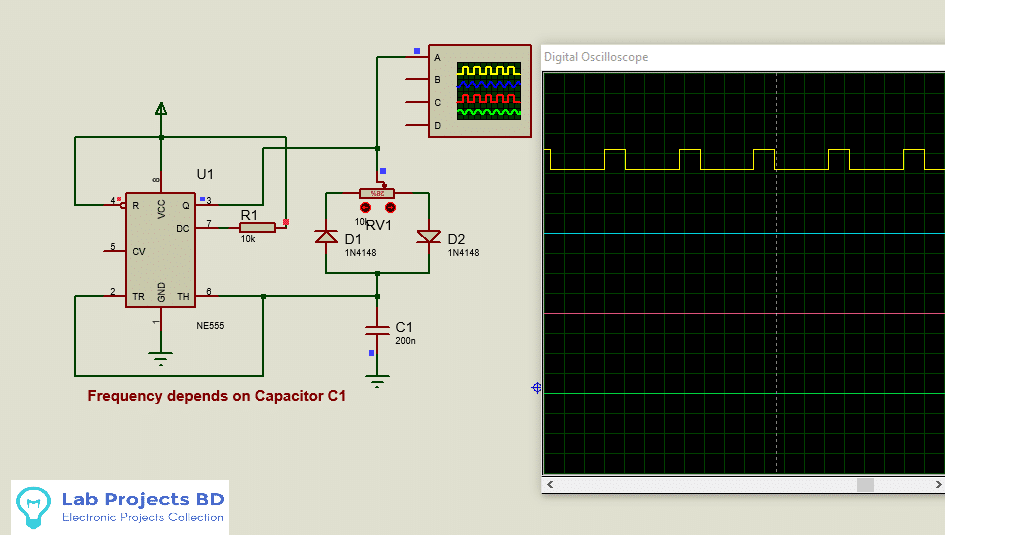 Simulation Result:
AC load drive with NE555:
So if we combine this PWM generating circuit with our previous AC load driving circuit then we can control our AC loads using PWM generated by NE555.
Circuit diagram:
In this circuit diagram, the generated PWM signal is not sufficient to turn on the MOSFET. So we used an Opto-coupler to level up the gate voltage. A 12V DC source is required for that.
Signal pattern:
Here is the signal pattern of our simple AC dimmer using NE555:
The yellow signal is the Gate signal of MOSFET, Blue one at the Drain of MOSFET and the red one is across the load.
Now we can easily control our AC loads using the PWM signal. Here we have generated PWM using NE555 timer IC which is very common.
Result:
After simulating and field testing, we have seen that we can control AC loads using PWM signal. Although it generates little EMI, but it made our work easy in many circuits. Considering load type and use we can implement this technique in our control circuit.
I hope this project was helpful to you. If you make one for yourself, it will be a great pleasure for me. Anywhere you need help, let me know. Please share this project and subscribe to my blog. Thank you.